Appivo wins "Innovation of the Year" at the Örebrogalan 2016 awards in Sweden
Last week Appivo won the Innovation of the Year award at the Örebrogalan 2016 awards in Sweden! We were excited just to be nominated, and we're thrilled that we won. The whole Appivo team has been working extremely hard so this is both validating and motivating!
There's a great Örebrogalan 2016 article with more photos here.
The Innovation of the Year award is given to a company or a project that is unique and innovative, has large growth potential and is sustainable from an environmental perspective. Mikael Melitshenko, CEO of Inkubera and one of the award sponsors, had this to say:

Appivo has a clear strategy for how to offer their service on a global market. They are at an early stage and have rapidly developed the product to a first sellable version. Moreover, they have recruited highly talented individuals with both technical and entrepreneurial skills. [translated from Swedish]
Read the Inkubera press release here.
The Appivo solution enables anyone to create Web and mobile applications with no coding required. Apps are easily created with a drag-n-drop interface and are immediately available in any browser. While the Appivo s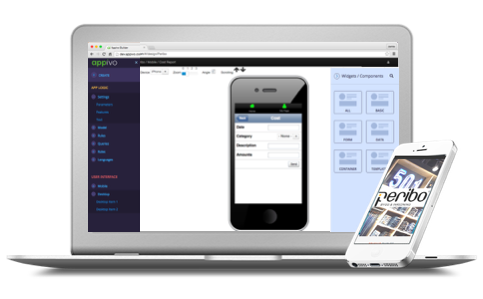 olution is optimized for business environments, it can support a wide variety of application scenarios.
The recent growth of cloud applications and mobile devices is astonishing, and most analysts are predicting accelerated growth in both of these areas. Industry giant Cisco is forecasting 50 billion connected devices by the year 2020. 50 BILLION! Who is going to create applications for these devices? We all are. All of us. Because software development isn't just for developers anymore.
If you're interested in learning more about Appivo, or want to build an application for yourself or for others, don't hesitate to reach out. We're always interested in talking about how technology can solve problems.