Building Better Apps Together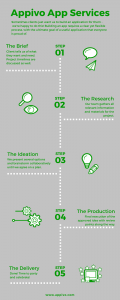 Appivo wants everyone to start building better apps. Our App Builder is currently in an alpha testing phase, which means that we're getting it ready for our first beta cycle. So while we're using it internally here at Appivo, we're always looking for new app ideas and scenarios that we can use for testing.
Several customers couldn't wait and we built apps for them, which has been a great experience for everyone. When that happens our customers quickly get up and running with an application they've effectively designed, and Appivo gets a real app scenario (because we can only build Hello World apps so many times).
Please comment below if you have an application scenario that you think we should consider. We may just follow up with you so we can build it together. Or, if you know you want us to build an app for you then that's fine, too. You can comment below or email us at info@appivo.com.
Check out the handy infographic on the right for an overview of the Appivo App design process.