Combining Mobile & Cloud Strategies
On April 11th, I participated in a Webcast on Cloud & Mobile. Jeanne Morain (author/strategist) had me in the hot seat with Harish Sathisan (Director, Mobility, Tech Data). It was a fun, informative discussion (hopefully) and only 30min. You can watch the replay here: https://www.brighttalk.com/webcast/13149/251547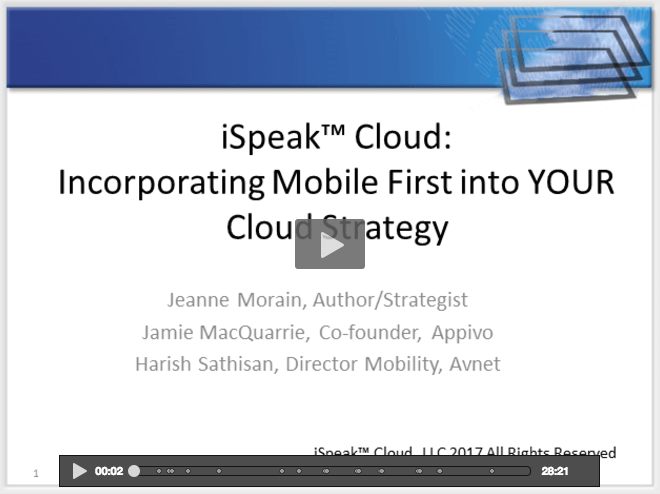 During the webcast Harish discusses the top 5 challenges and strategy considerations for leaders, and I cover the top 5 challenges when converting legacy to mobile. Here's a quick preview of my list:
Choose the right strategy
Know your customer
Start with a sure thing
Be prepared to scale
Find a strong sponsor
These challenges are true for most transformative IT projects, so I discuss how they ap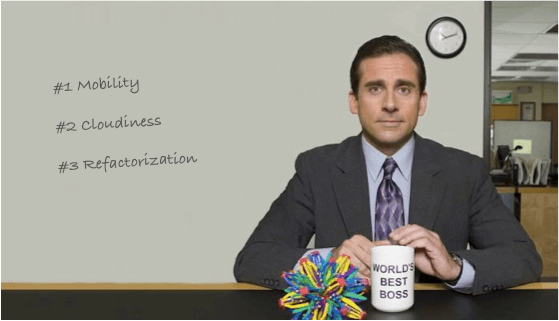 ply to mobile apps. It's easy to forget about #5 because it's probably the least technical, but sometimes most important, and so is worth repeating here. Make sure you have a senior manager or executive that is backing your project. Good projects don't always succeed, so having a heavy-hitter to shield your team from rumors and budget cuts can make all the difference.
Check out the full webcast if you're developing a mobile app strategy or about to tackle a mobile app backlog. Two top 5 lists in under thirty minutes is a pretty good deal – and hopefully we'll help steer you in the right direction. This webcast is especially critical for teams that are evolving along the mobility maturity curve from mobile device management (Reactive) to empowerment through mobile apps (Proactive).