Today we went old school with our marketing and hung a banner on our office in Örebro, Sweden. The banner reads,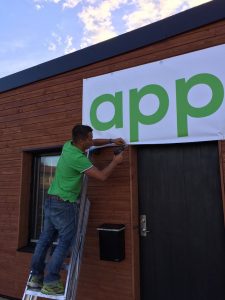 Appivo
Störst i världen? Det går aldri!
Hjälp oss! Besök oss på www.appivo.com 
Roughly translated, it's a sarcastic message that means,
Appivo
The biggest in the world? That will never happen!
Help us! Visit us at www.appivo.com 
Yes, it's a blatant message to drive traffic to appivo.com, Facebook, LinkedIn and Twitter. Hopefully everyone driving past will wait until they're done driving to actually check us out online. Volvo's safety record implies that drivers over there take safety seriously, though the cumulative driving record in our Örebro office provides plenty of evidence to the contrary. Not to name names, but there was a period of forced bicycle commuting, also called the Appivo Healthcare Plan, Option 2.
While everyone supported the banner idea it was Christian who really made it happen. It's a great idea for a number of important marketing reasons, but the real inspiration came from Christian's deep-seeded love of using power tools.
If you happen to be in Örebro and drive past our office, feel free to stop by for a quick tour and fika. If you can't stop, you can always visit us at appivo.com, and