"There's an app for that" is a tired saying and not entirely true. While there's almost an app for everything, there are a projected 1 million new app developers this year that will be working on something. I'll argue that there are many more people who have an idea for an app but who don't have the dev skills to make it happen. That's what Appivo is all about. Build your app; no coding required.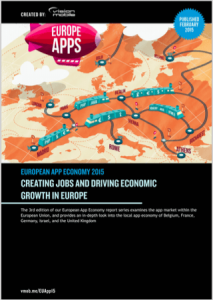 The team over at Vision Mobile put together a great report that includes that 1 million projection and a lot more: European App Economy 2015. You can hit the link to read the full report (free). It's at least worth a skim.
Some of the statements in the report seem like common sense, but so often things are only obvious once someone has said them. Vision Mobile does a good job of concisely summarizing current trends and providing supporting data. And while the report focuses on Europe, it's easy to see how trends might relate to other regions.
Reading through the report, several things caught my eye and spawned some additional thoughts:
Mobile won't take over and become everything for everybody, but it's no longer a second-place finisher to traditional web. The whole "second screen" phenomenon will continue and organizations will continue to shift budget from traditional projects; more app development, more mobile advertising, etc.
This era called the App Economy comes with an explosion in the number of available apps and I have a feeling that "we ain't seen nuthin yet." The sheer number of available apps is already straining the effectiveness of existing app stores and app search is still pretty immature. We should expect some fundamental changes in both app stores and app search in the near future.
Somebody needs to develop all these projected apps, and Vision Mobile estimates that we'll add one million app developers to the existing world-wide estimate of 5.7 million. Those numbers include hobbyists as well as professionals, but still, that number is eye-opening. I suspect that visual app builder solutions like Appivo will enable a new class of app creator, further adding to that number.
Java is listed as the most popular language for mobile development, with HTML 5 as a close second (with regional variations). My money is on HTML 5 to close that gap as more developers embrace pure mobile web apps and HTML 5 hybrid apps. I'm assuming that HTML 5 will continue to support more and more features that previously required a native app, and that the aforementioned changes to app stores and search will minimize the current benefits of being listed in a native app store. However I suppose only time will tell who is VHS and who is Betamax who is Blu-ray and who is HD DVD.
The full Vision Mobile report covers more areas and in more detail, such as potential impact on local economies and revenue comparisons for consumer vs. business apps. This post is not intended to be a summary but rather just an opportunity to highlight a good report and share some thoughts.
Everyone here at Appivo is excited about where the market is headed and we've received pretty encouraging feedback from customers, advisors and other colleagues. Reports like this one help validate our strategy though I'm sure there are some who may disagree or offer alternative opinions. Feel free to leave a comment below if you have anything to share.