Are You Too Busy to Run Your Business?
It happens to all of us and there are a number of sayings to describe it. Simply put, we get busy. We take our eyes off the prize. We take our eye off the ball. We can't see the forest through the trees. We lose sight of the bigger picture. We're too busy treading water to build a boat. (That last one is my favorite.)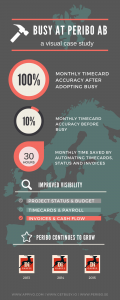 It's all too easy to focus on work and not on the business itself. That's why Peribo asked us to build them a solution. In my last post I mentioned that several customers couldn't wait for our App Builder and asked us to build an app for them. Peribo was the first, and it's worked out pretty well for everyone.
What started as a simple time tracking app for Peribo's mobile employees has turned into a modular suite of web and mobile web apps that we call Busy (or sometimes bu:sy), short for Business System. Busy includes apps for time tracking, project planning, invoicing, and inventory – and a solid list of ideas for more.
Peribo is our #1 early adopter and has enlisted their industry peers to become some of Busy's most active beta testers. We're currently accepting beta requests if you're interested; targeting an official release later this year.
If you want to learn more about how Appivo & Busy helped Peribo, and can help your business with employee time tracking, invoicing, project planning and inventory management, send us a note.